This Mother's Day Specials are - A ready-to-hang Limited Edition Art Print of Melbourne in 1882.

This is a stunning Melbourne aerial view showing the historical development of the 1880's era. It is a beautiful reminder of our wonderful past and development.
The glorious buildings and churches are featured beyond the thriving port and railway lines, already indicating the prosperity of our marvellous city.
This limited edition is perfectly framed to complement this historic and informative image with a 7cm wide gold leaf frame of timber construction to suit the era.
Suitable for any home or enterprise to create an impression of wonderment, and conversation.
Protected with 2 mm thick clear glass for permanent protection of the images and ready to hang.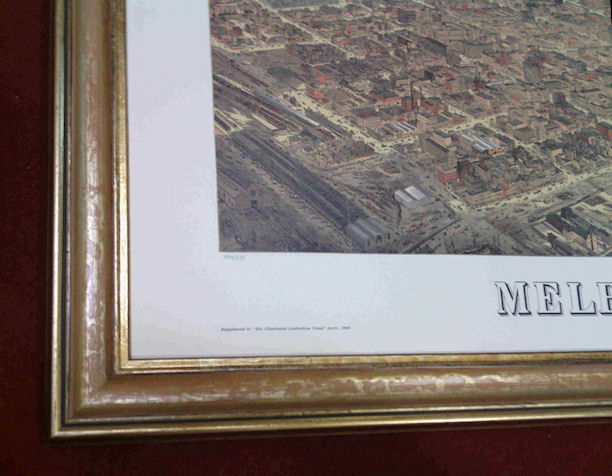 Corner Detail to show the Quality of the Frame
Look at the corner and you will not see any join gaps or mis-alignment because these are top-Quality Frames.



It comes with a Certificate Of Authenticity (COA) attesting to its provenance
and its rarity of a maximum total of 475 units sold worldwide to protect your investment.
Melbourne 1882 - Art Print


Custom framed Limited Edition Art Print.
Unpacked, it weighs 5 kg and is 105 cm wide x 79 cm high x 3 cm thick.
Price (excluding Delivery) Reduced from $650 to
$535
In Stock.

This price reduction is ONLY during the month of May or until Sold Out.

LE-FG-AP-001: Melbourne 1882 - Art Print
$535
Quantity Added
0
This is your Selection, so far:


You have
items totalling
All our prices include GST, but exclude any Packaging, Insurance or Delivery Costs to your location.
We do not accept any on-line payments through this website, so your funds and identity are safe.

Pressing the [Make an Order] button will popup an Order page on which you can choose to either:-
(a) have us reserve your Selection for your obligation-free inspection and pick-up from our Picture Framing & Mirrors shop at your convenience,
or, if you cannot visit us and collect your Selection in person,
(b) have us calculate the Delivery cost of your Selection to your location and inform you via email.

On that Order you can also include any special instructions to us.

Or You can Phone your Order or enquiry to: 03 9370 5744

Or Post your request or drop into the Shop at:
Kosnar's Picture Framing and Mirrors Shop
488 Mt Alexander Road
Ascot Vale
VIC.
3032
Or FAX your request to: 03 9370 5344