Kosnar's Picture Framing and Mirrors Shop
has been Custom Picture Framing in the Ascot Vale area since 1953.
Expert, friendly, free advice with a commitment to the best possible results is our promise to you.
Just Contact Us. You won't be disappointed.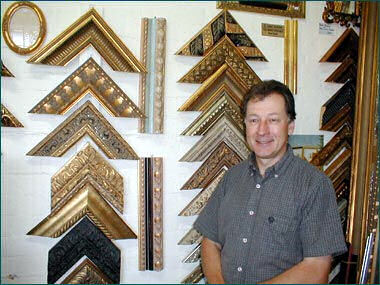 Denis Kosnar, owner and manager, has been apprenticed as a Gilder and Picture Framer and has over 30 years experience in the industry. He also has earned the international prestigious title of "Certified Picture Framer". This is a certificate of international standing indicating a great deal of knowledge in Picture Framing.
The International Certificate -
giving you assurance of knowledge and skill.

Biggest Range in Melbourne

We use all sources and suppliers, being able to put the best combinations of materials, together with the best craftsmanship, bringing you, our customer, the best possible results. We also have a large range of Ornamental Frame styles and Mouldings as well as our own brand of Mirrors, exclusive to Kosnar's. We also have the ability to custom make mirrors or colour tone to your needs.
The right design concept to best enhance the total image is our priority. To achieve this end, we have the largest range of options, combined with exceptional craftsmanship.

Our ABN is 39 592 992 436 and our motto is: Where Picture Framing is an Art because not only do we superbly mount your art treasures in our quality frames but we create frames that are themselves a work of art!