Australian Flags Montage - Framed and ready to hang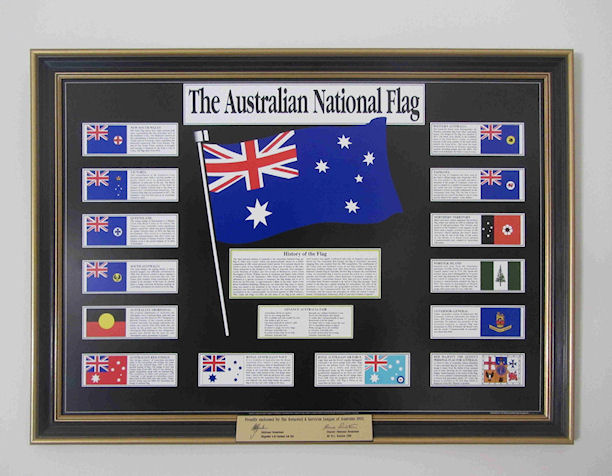 Uniquely Australian National Flag Montage Print, depicting 15 Australian flags, including Naval, Military and Aboriginal flags - with a history and details of each flag, also featuring the words of our National Anthem
Our great Australian National Flag, its history and that of our states and territory, plus more, beautifully presented, a stunning display for home, office, reception area or boardroom.
Ideal also for libraries, schools or educational establishments.
A truly unique And attractive wall piece.
Protected with 2 mm thick clear glass for permanent protection of the images and ready to hang.

Montage Detail and National Anthem
Australian National Flag Montage Print, depicting all Australian flags, including Naval, Military and Aboriginal flags - with a history and details of each flag, also featuring the words of our National Anthem.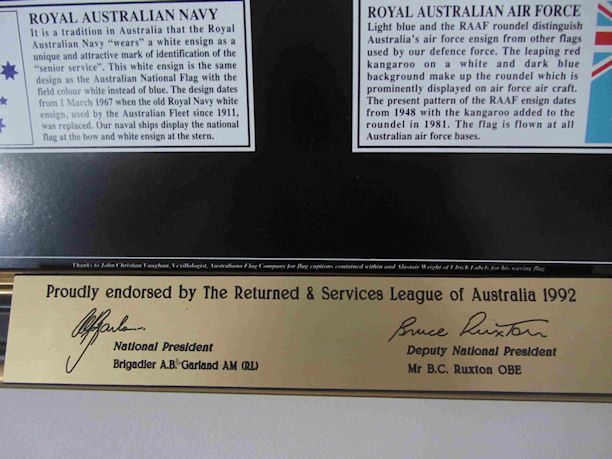 Detail showing the official Endorsement Plaque
Each montage print is proudly endorsed by Brigadier A. B. Garland A.M. the once National President of the Returned and Service League of Australia and the late Deputy President, the well-known R.S.L. legend, Mr. Bruce Ruxton M.B.E., O.B.E. and A.M.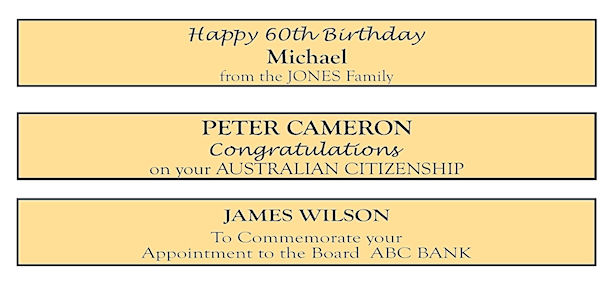 Custom Plaque
A choice of gold plaques is now available, either the featured original plaque shown above or your own customised plaque for an additional $45 if you wish to reward yourself, a close Friend, a family member, a staff member, or someone else for an achievement that deserves a gift of this quality and significance. Make a Gift of one of these with a personalised plaque with your wording to show your appreciation of a particular achievement worth rewarding. Occasions worthy of such a Gift are:- Birthdays, Anniversary, Christmas, Sporting or Academic achievements and of course - Just for being YOU.

Just tell us the wording you want and we will have the plaque engraved and mounted on the frame for you.



The complete framed montage print is an impressive 85 cm wide x 61 cm high (33.5 x 24 inch) overall size and features a 4.5 cm wide timber frame with gilt edges and a smart black background panel.

This montage print comes with an informative laminated leaflet about Mr. Bruce Ruxton M.B.E., O.B.E.and A.M.

Just looking at this one makes you feel proud..


** Order yours NOW - before they sell out. **
Framed Montage of Australian Flags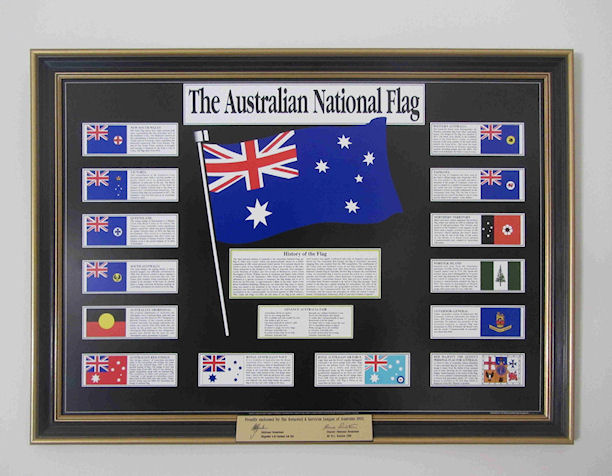 Framed Montage of Australian Flags
Unpacked, it weighs 5 kg and is 85 cm wide x 61 cm high x 3 cm thick in outside dimensions.
Price (excluding Delivery)
$
290
In Stock.
Order yours NOW - before they sell out.
FM-AF-01: Framed Montage of Australian Flags
$290
Quantity Added
0
This is your Selection, so far:


You have
items totalling
All our prices include GST, but exclude any Packaging, Insurance or Delivery Costs to your location.
We do not accept any on-line payments through this website, so your funds and identity are safe.

Pressing the [Make an Order] button will popup an Order page on which you can choose to either:-
(a) have us reserve your Selection for your obligation-free inspection and pick-up from our Picture Framing & Mirrors shop at your convenience,
or, if you cannot visit us and collect your Selection in person,
(b) have us calculate the Delivery cost of your Selection to your location and inform you via email.

On that Order you can also include any special instructions to us.

Or You can Phone your Order or enquiry to: 03 9370 5744

Or Post your request or drop into the Shop at:
Kosnar's Picture Framing and Mirrors Shop
488 Mt Alexander Road
Ascot Vale
VIC.
3032
Or FAX your request to: 03 9370 5344