Her Studies And Training
Lynne's studies include:-
1975 Diploma in Art And Design (Graphic Design) specializing in Illustration from Caulfield Institute of Technology, Victoria
1984—2016 Various calligraphic workshops with international tutors
Her ILLUSTRATION AND CALLIGRAPHY Exhibitions
1987 Solo—Illuminated Calligraphy & Heraldry at Kay Craddock's Antiquarian Bookshop - Melbourne
1990 Solo—Renaissance Bookbinding - Melbourne
1992-99 Dromkeen Childrens Book Gallery - Victoria; Books Illustrated - Port Melbourne; Book Farm - Maleny, Qld
1998 Gary Myers Gallery - Maleny, Qld
1999 Books Illustrated - Stonnington Library
2000-08 Coolart Park - Somers; Celtic Origins - Armadale; Kinglake Gallery; Illustrators House - Brisbane; Alphabetique - Canterbury
2011-16 Stockyard Gallery - Foster, Victoria
2014 Gasworks Park - South Melbourne
TEACHING
Over the last 15 years, various workshops in the art of Illumination, decorated borders, Persian lettering, Uncial lettering and Celtic decoration, colour theory, Florentine borders for the Calligraphy Society of Victoria, RMIT CALLIGRAPHY Certificate courses and interstate groups in Brisbane, Noosa, Townsville, Qld.




MAJOR AWARDS
Royal Melbourne Show: - 1st and 2nd prizes in 2010 and 2011; Life Aquatic Foster:- 2nd prize 2013 and Highly Commended 2015; Sandy Point Art Show:- Highly Commended 2016 Featured artist in Postscript, 2010(CALLIGRAPHY Society Of Victoria) and selected artist in WordsWork (Australian Society of Calligraphers)


MAJOR CALLIGRAPHIC COMMISSIONS
Certificates and citations for clients such As the Registries Of Births, Deaths And Marriages, Australia; the City Of Melbourne; Australian Securities and Investment Commission; State Emergency Services; RACV; Supreme Court Victoria; Office for the Governor, Victoria.





Lynne Muir uses the ancient art of calligraphy in new and exciting ways, creating works of art that reflect their traditional roots from medieval and various cultural origins.

Many of her works are inspired by Celtic or Persian themes.

More recently she has explored the texts of John Muir, Scots / American wilderness campaigner and the concept of pilgrimage for today's culture.

Her background is in designing and illustrating childrens wildlife and adult giftbooks.

Commissioned work can be as diverse as designing and inscribing a birth certificate, a bookplate, a photo mount for your football team or beautifully decorated captions and scrolls on the matt of your favourite wedding photo.
CALLIGRAPHY SERVICE
Contact Us
For your calligraphy needs by this talented artist.
You may need exceptional quality labels on photo mounts and certificates, certificate design, some restoration work, inscriptions or personalised quotes.
See samples in the carousel below: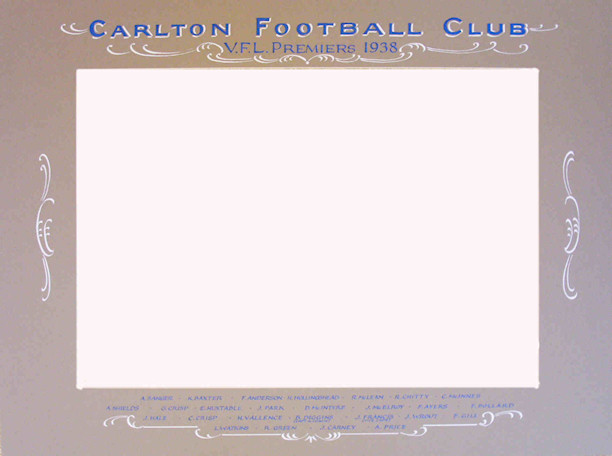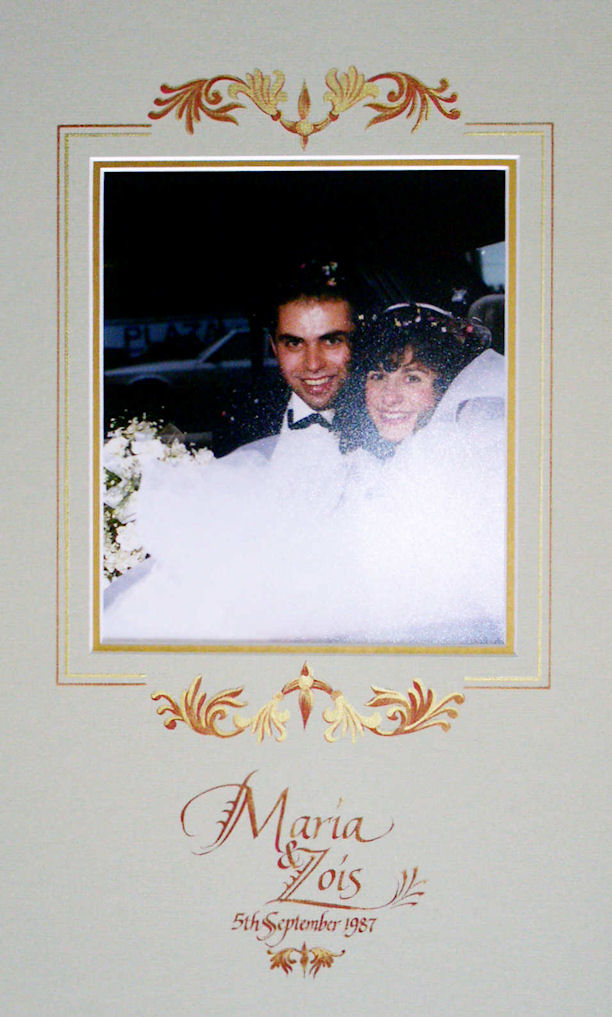 The available artworks by this artist are on display at Kosnar's Picture Framing and Mirrors Shop at 488 Mount Alexander Road, Ascot Vale, Victoria phone (03) 9370 5744 FAX (03) 9370 5344
Personalised viewing can be arranged by appointment by phone or email or by placing an Order (With no obligation to buy) so that your choice is reserved for you to inspect, at your chosen time, at your leisure, for your pleasure.
Lynne Muir
When you purchase any of Lynne's artworks, framed to suit your needs by us at Kosnar's Picture Framing and Mirrors Shop you also get a Certificate Of Authenticity that is your Provenance for each one of her works.
This guarantees your investment is properly displayed, identified and certified.

Some Dimensions: quoted below are For the unframed art and not the framed and mounted artwork.
Because the frame sizes can vary depending on your specific needs, a separate quotation for your framing will be provided after we establish the best framing solution for you in consultation with you.

All Dimensions: quoted are for the Width x Height (in that order) and as displayed.
All prices are in Australian dollars and include GST.
You can also go to her website to see her other works. Return to us for a quote to frame her artworks in a most complementary style.