Each Gift Certificate's face value is placed in our Bank Account and stays there until the Certificate is redeemed by the bearer.
At each redemption, we make a reasonable attempt at identifying the bearer as the rightful recipient, as would be expected by the purchaser.

We do not impose an expiry date on your Gift Certificate so you won't lose out that way either.
We do, however, try to contact the recipient if the Certificate has not been redeemed within 12 months, just as a courtesy reminder,
and we will replace the Certificate if it has been lost for the token amount of $1.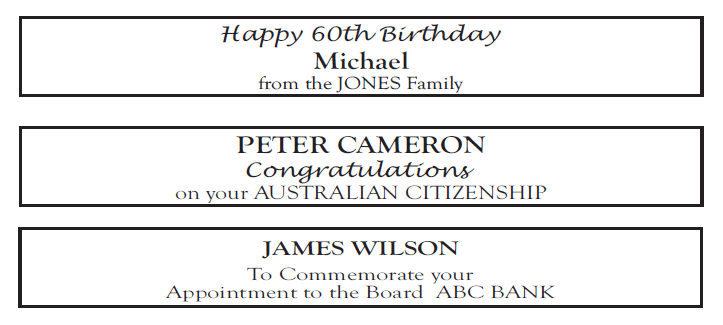 These examples of a Gift Certificate wording can help you show your appreciation of a particular achievement worth rewarding.

Other occasions worthy of Gift Certificate are for Anniversary, Christmas, Sporting or Academic Achievements and a Very Special One - "Just for being YOU!!".



To order one of these thoughtful Certificates for your friends or relatives, you'll need to:-

1. personalise it with some details on the form below
2. press the [Add to Selection] button
3. and then press the [Make an Order] button.