A Limited Edition Anzac Print of Soldiers at Cheops Pyramid in WW1.


There are 7x badges which are gold embossed, and the title - ANZACs AT WAR - title
and some other key lines are gold foiled to give a spectacular effect.
Beautifully framed in a 5 cm wide timber frame covered with a composition
for a fine smooth finish, with a black and gold high quality presentation.

The outside dimensions are 77 cm wide x 87 cm high x 2 cm thick and it weighs 6 kg.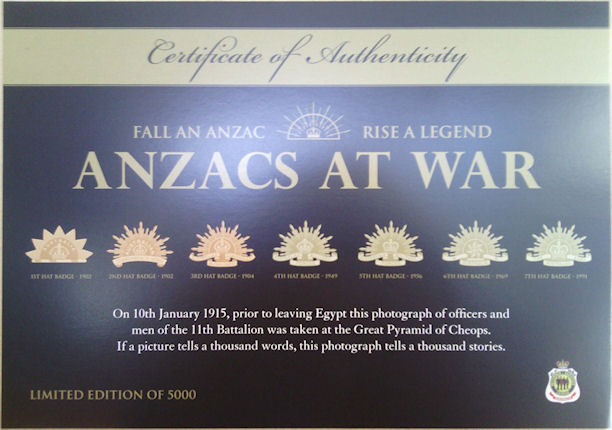 All come with a Certificate Of Authenticity (COA) attesting to their provenance
and their rarity of a maximum total of 5000 units sold worldwide to protect your investment
and authenticated by the RSL (Returned Soldiers' League) for your piece of mind.



Check out the quality in the detail. You can see the soldiers faces clearly in the photo.
Sadly, only a few of these soldiers who stood on the pyramid would survive the 8 month Gallipoli campaign.
The inscription at the base of the print tells the fascinating story behind the photo
and includes details of the highs and lows of the famous 11th Battalion.

Order one of these superb products ready for display in your entry-foyer, den, lounge-room or office.

If you need more info about this great opportunity, please contact us..