Beautifully Framed Centenial Edition of our World War 1 ANZACs in Egypt at the Cheops Pyramid
Beautifully Framed Centenial Edition of ANZACs in Egypt

The title speaks volumes - BROTHERS IN ARMS ... AGAINST ALL ODDS

Beautifully framed with mat, protective glass, and quality 4 cm wide black and muted gold frame, ready to hang with pride.

The outside dimensions are 85 cm wide x 90 cm high x 2.5 cm thick and it weighs 5 kg.

Check out the quality in the detail. You can see the soldiers faces clearly in the photo.
Sadly, only a few of these soldiers would survive the 8 month Gallipoli campaign.
The inscription at the base of the print tells the fascinating story behind the photo
and includes detailed historical text, including:
Australia at War.
The Gallipoli Campaign.
The Knights of Gallipoli.
The ANZAC Legend.


Order one of these superb products ready for display in your entry-foyer, den, lounge-room or office.

If you need more info about this great opportunity, please contact us..


Protected with 2 mm thick clear glass for permanent protection of the images and ready to hang.

Detail of the Rising Sun Badge - The Third Pattern - May 1904
Detail of the Rising Sun Badge - The Third Pattern - May 1904 - as was worn throughout both World Wars.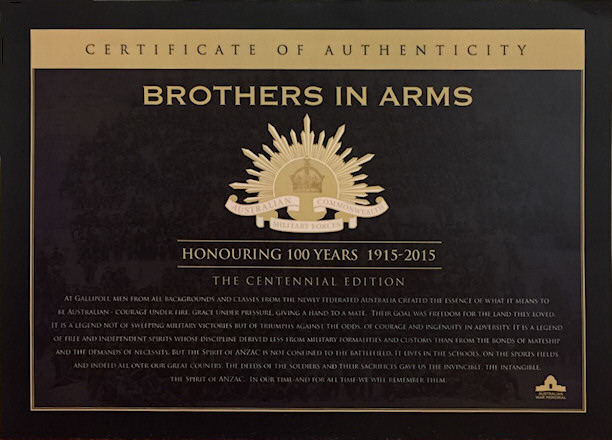 It comes with a Certificate of Authenticity (COA) attesting to its provenance
and its rarity of a maximum total of 475 units sold worldwide to protect your investment.

ANZAC Brothers In Arms Centenial Edition


A Beautiful Framed Centenial Limited Edition of ANZACs Brothers In Arms Centenial Edition
Unpacked, it weighs 5 kg and is 85 cm wide x 90 cm long x 2.5 cm thick in outside dimensions.
Price (excluding Delivery)
$
320
In Stock
Order yours NOW - before they sell out.

SE-FP-WP-001: ANZAC Brothers In Arms Centenial Edition
$320
Quantity Added
0
This is your Selection, so far:


You have
items totalling
All our prices include GST, but exclude any Packaging, Insurance or Delivery Costs to your location.
We do not accept any on-line payments through this website, so your funds and identity are safe.

Pressing the [Make an Order] button will popup an Order page on which you can choose to either:-
(a) have us reserve your Selection for your obligation-free inspection and pick-up from our Picture Framing & Mirrors shop at your convenience,
or, if you cannot visit us and collect your Selection in person,
(b) have us calculate the Delivery cost of your Selection to your location and inform you via email.

On that Order you can also include any special instructions to us.

Or You can Phone your Order or enquiry to: 03 9370 5744

Or Post your request or drop into the Shop at:
Kosnar's Picture Framing and Mirrors Shop
488 Mt Alexander Road
Ascot Vale
VIC.
3032
Or FAX your request to: 03 9370 5344