Limited Edition of Captain James Cook's Map in 3 beautiful styles of timber frames.
Kosnar's Picture Framing and Mirrors Shop has secured the rights to the remaining Limited Editions of the replica of the Map used by CAPTAIN JAMES COOK to plot the course on his navigation around Australia and return journey to England.

This 86 cm wide x 60 cm high Map, on quality parchment paper, also traces the voyages of H.M.S. Dolphin/Commodore John Byron 1765, H.M.S. Tamer/Captain Patrick Mouat 1765 and H.M.S. Swallow/Captain Carteret 1767, which all preceded Cook and The Endeavour in search of "The Great South Land".

The history of the navigation around Australia by these ships and their voyages are detailed on this outstandingly faithful replica, which was painstakingly copied from the original engraved by William Whitchurch of Bartholomew Lane, Royal Exchange - the 18th century's foremost cartography engraver. It includes Cook's charting Map and naming of the East Coast of Australia from Cape Howe in the south to Cape York in the north.

The Map contains a substantial account of the aims and the results of the three disastrous and epic nightmare explorations. You will also receive an in-depth account of the historical, economical, political and commercial background to the exploration in the Pacific and the eventual navigation around Australia, as well as a detailed, careful explanation of all the special features of the Map.

The Map is a visual account of the most significant voyage in the history of Australia, presented in a manner befitting such a document of excellence.

Each replica Map is individually numbered with a Limited Edition of a maximum of 1000 copies, each individually accompanied by a Certificate of Authenticity (COA).

Beautifully framed in a choice of three styles.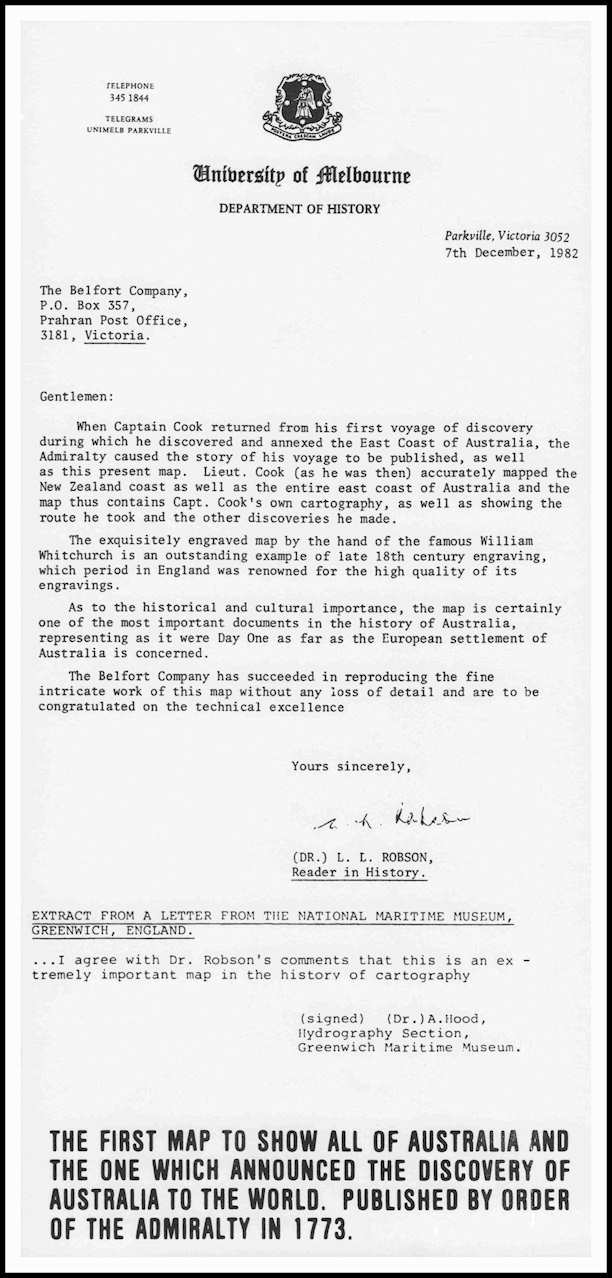 Here is an authoritative testimonial to the quality of appearance and content of the original Map, as well as the reproduction. It speaks for itself...

To order one of these beautifully presented Limited Edition Maps for your boardroom, study, den or office, just add your choice to the Wish-list, scroll down and then press the [Make an Order] button.