Tutankhamun and the Golden Age of the Pharaohs
Click this image to reserve yours now!
Tap this image to reserve yours now!
Nebkheperure Tutankhamun was King or Pharaoh of the 18th Dynasty of Egypt ruling from 1333 BC to 1324 BC from the age of 9 to about 20 years of age. Much is known about King Tut because his tomb was almost completely intact when discovered in 1922. The many artifacts found in his tomb suggest that the young king had a pampered life in the opulence of the Egyptian court. But other items, including numerous spears, bows and arrows, and chariots, many inscribed with his name and clearly used, attest his athleticism and youthful energy. Today, new evidence of Tutankhamun's reign has emerged that shows he was much more active than was thought, and may have led military campaigns against the Syrians and Nubians before he died.
To purchase one (or the complete set of 8) of these beautifully presented Egyptian images of King Tutankhamun for your boardroom, study, den or office, just add your choices to your Order.
8 different depictions of King Tutankhamun are available either as a full set of 8, or individual selections as preferred.
10 cm wide gilt ornate frames with velvet backing.
The overall or outside dimensions of each of these beautiful frames are: width 44 cm x 39 cm high x 8 cm thick.
$110 each or $800 for the entire collection of 8 subjects.
Beautifully framed in a consistant style to superbly adorn your hall-way, staircase or long wall with all 8 pictures and save $80.
Protected with 2 mm thick clear glass for permanent protection of the images and ready to hang.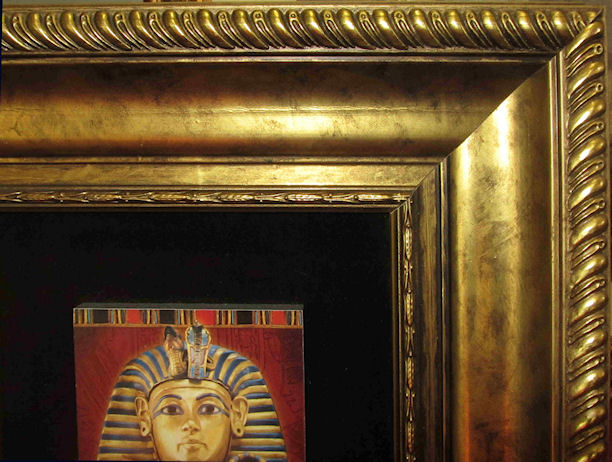 Frame Corner Detail
Here is a corner detail of these high-quality Gilt Ornate Timber Frames
so you can see the precision for yourself.


This is your Selection, so far:


You have
items totalling
All our prices include GST, but exclude any Packaging, Insurance or Delivery Costs to your location.
We do not accept any on-line payments through this website, so your funds and identity are safe.

Pressing the [Make an Order] button will popup an Order page on which you can choose to either:-
(a) have us reserve your Selection for your obligation-free inspection and pick-up from our Picture Framing & Mirrors shop at your convenience,
or, if you cannot visit us and collect your Selection in person,
(b) have us calculate the Delivery cost of your Selection to your location and inform you via email.

On that Order you can also include any special instructions to us.

Or You can Phone your Order or enquiry to: 03 9370 5744

Or Post your request or drop into the Shop at:
Kosnar's Picture Framing and Mirrors Shop
488 Mt Alexander Road
Ascot Vale
VIC.
3032
Or FAX your request to: 03 9370 5344